Where to Start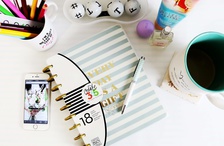 Every year I meet lots of engaged couples who are incredibly excited … and also pretty overwhelmed. Generally speaking, most people think about the proposal, and the wedding day, but not so much the logistics in between. Planning a wedding can be a bit daunting, so to take a little pressure off, here's my thoughts on where to start with planning your big day.
1. Guest List
Do you imagine a small, intimate affair, or the biggest party of the year? Are you inviting immediate family only, or everyone you're related to? Will there be children invited, or is it an adults-only event.
You can't look at venues, until you know how many people you need it to hold. So talk to your partner, make a list, think on it for a few days, look at the list again, and get to a rough number that you both feel comfortable with. It is flexible until you send invitations, but there's a huge difference between a cosy restaurant for 30 guests, and a spacious function centre for 200!
2. Budget
The average wedding in New Zealand costs around $30,000. It can be more, and it can be less, but what it comes down to is how much you are comfortable spending. Find a dollar value you're comfortable with, and then you can allocate how you're planning to spend that money.
3. Date
Is there a date that is special to you both? Is there a particular time of year you would like to get married? Your venue may dictate this somewhat, but it's a good place to start.
4. Theme
What do you have pictured for your big day? Do you want a church or outdoor ceremony? Traditional, modern, formal, relaxed, beach, garden, rustic or something completely out of the ordinary? Once you have an idea of your day, it will help you select all the details including venue.
5. Your top 3
My biggest advice to couples getting married, is pick 3 things you really care about and are desperately important to you for your wedding day, and don't stress about the rest. Do you want mouth-watering food? Unlimited alcohol? Incredible photographs? A dream wedding dress? Band or DJ? Fully styled décor? Bucketloads of flowers? Favours for all the guests? Or something else that's special to you? Whatever it is, do those 3 things to the best your budget can afford. If you stress about every single detail, you'll go a little bit crazy … and that's what we're trying to avoid!
After all that, I have my one biggest piece of advice. Make it true to you. This is your wedding day and there is no right or wrong way to do it.
If you're still overwhelmed or need a little extra help, there are some fabulous online resources, or I'm only a phone call or email away.
Good luck, and I can't wait to hear all about your plans!
Hannah
xox
Posted: Wednesday 17 February 2016