A Step-by-Step Guide to Vow Writing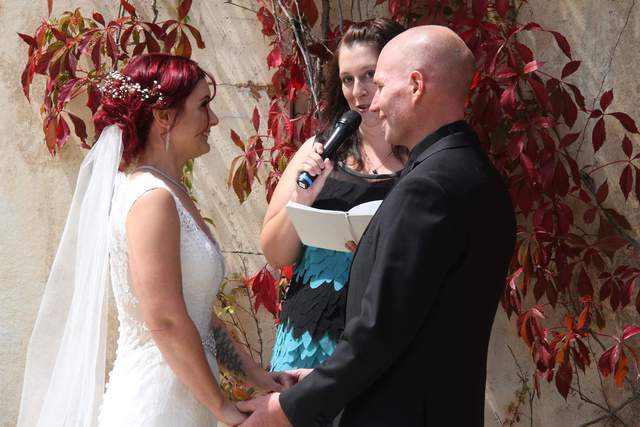 When I met couples, I always ask the question … are you going to write your own vows or would you like to choose from a list? Almost 100% of the time, the bride-to-be says 'I want us to write our own', and I can feel the stress levels rise in the groom-to-be (assuming it's a heterosexual couple!).
Writing vows can feel stressful if writing doesn't come naturally to you. It can feel like just another thing to add to the to-do list.
Vows don't have to be long, or complicated. The goal is to make them feel natural and right for you. Don't try and be someone you're not, but do aim to make your partner smile. Tears are the ultimate goal ;)
There's two main ways you can do it … same but different, or a total surprise.
Same but Different
This is what I call it, when you have the same intro and ending but the middle is different. My husband and I did this for our wedding day and I found it worked really well as it wasn't so stressful for him to write a whole set of vows.
Here's my vows below (and feel free to steal if they work for you!).
Today I will marry my best friend, the one I will live with, dream with and love.
From this day forward, I, Hannah, take you, Richard, to be my husband.
Today is our wedding day and I give myself to you in marriage to be your wife.
In the presence of our friends and family, I make these promises to you.
I promise
To try and learn patience and understand that you are sometimes actually busy at work and can't always reply to the 5 emails an hour I send you
To look after you when you are sick and not complain about you having man flu
To continually work on our relationship and not get complacent or take you for granted
To communicate with you, to not expect you to be a mind reader and to always be open and honest with you
To laugh at your dad jokes
To encourage and support you in everything you do, from trying to save the world, to your sporting adventures
And to remind you every day that I love you
I look forward to spending the rest of my life with you.
I look forward to us working as a team and facing all life has in store for us, together
These promises I give to you today, and all the days of our life.
Richard, I love you. You are my best friend and will be forever.
In our case, we had the same beginning and end, and just wrote our own individual promises. They were a mix or sweet and cheeky, and so were his. They were perfect for us.
Total Surprise
This is when you write your own vows individually, and share them for the first time on the wedding day. This usually gets people the most nervous, as they are worried they need to 'live up' to what their partner has written. Stop that! Just write what's in your heart and what you want to say.
Before you write them, talk to your partner about two things – length and style. You don't want to write 3 sentences and find your partner has written a novel; and you don't want to write something lighthearted and joking, if they have written something truly serious. Other than that, it's up to you.
So where to start?
You must include the only legal line … 'I (full name), take you (full name) to be my legal wife/husband' (or words to that effect). This can go at the beginning, the end or anywhere that fits for you.


You partner - Think about how much you love your partner, and why. When did you fall in love, how you felt when you realised you were in love? Words that describe your partner.


Your relationship – what has your partner taught you, how has it influenced you. What adjectives would you use to describe your relationship? Why is your relationship special to you?


Your marriage & future – What does marriage mean to you? What are you looking forward to about being married? How do you envision your future?


Your promises – what is it that you want to promise (or vow) to your partner forever? Make it realistic, and personal to you. You can include a few jokes in here, but try and keep the majority of your vows serious.
Overall, keep it concise, and not too intimate! No one is expecting a monologue, and don't feel you have to include all of the above!
An example:
(Name), I am so in love with you. From the moment I saw your cheeky smile on your tinder profile picture, I knew I had found something special. I love the way you make me laugh, the way you are always there for me, and the way you make the best cup of tea ever. You are kind, generous and sexy and have taught me how much more I can achieve when we are together. I can't wait to spend the rest of my life with you, building a family and making all our dreams come true.
I promise to laugh with you, cry with you and always be there for you.
I promise to always be honest with you and keep my guard down.
I promise not to moan when I stand on the football pitch in the freezing cold every weekend in winter.
And I promise to always buy you a treat when I do the groceries.
So today, I (full name), take you (full name) to be my legal husband.
So there you have it, keep it simple, make it personal, and don't stress yourself out! It doesn't have to be perfect, it just has to be perfect for you.
Happy Planning
Hannah
xox
Have you downloaded my FREE Checklist?
Don't Forget the Details! - Your Wedding Planning To-Do List. Grab your copy now!
Posted: Wednesday 26 July 2017