Writing Your Wedding Vows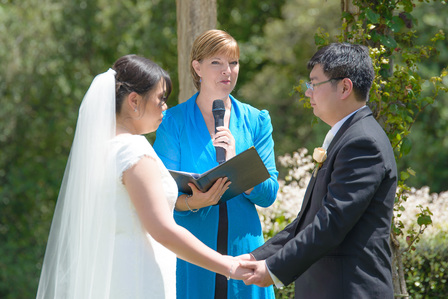 You're standing across from your love, in the middle of your ceremony, and now comes the part everyone has been waiting for … your vows. But what are you going to say?
In New Zealand, there is very little you legally need to say. You must use your full names at some point during the ceremony (I always recommend it goes in the vows, but that's not compulsory), and you must say "I (name) take you (partner's name) to be my legal (wife/husband/partner)" or something similar. That's it! The rest of it is completely up to you.
Here are a few options:
The Traditional/Religious
Catholic wedding vows follow a structure that you're welcome to utilise, even if you don't follow the Catholic faith.
"I (name), take you (name), for my lawful wife/husband.
To have and to hold from this day forward
For better, for worse
For richer, for poorer
In sickness and health
Until death do us part"


The Borrowed
There is an absolutely overwhelming number of resources online with sample wedding vows. Some good places to start are:
New Zealand Wedding Information
And of course, Pinterest
You are always welcome to 'borrow' from the above and use them as they are. You can change them up if you like, but if you see something that says just what you want to say, then use it!


The Same But Different
If you and your partner want to say similar vows but still like the element of surprise, you could structure them in a way that gives you this freedom.
For example, you could work together (or with your celebrant) to write a few sentences about what you love about each other and what you're looking forward to, and then you could individually write a couple of promises to each other to be a surprise on the day. For example:
Today I will marry my best friend, the one I will live with, dream with and love.
From this day forward, I, (name), take you, (name), to be my wife/husband.
In the presence of our friends and family, I make these promises to you.
I promise
(List a couple of promises that are individual to you)
I look forward to spending the rest of my life with you.
I look forward to us working as a team and facing all life has in store for us, together.
These promises I give to you today, and all the days of our life.
(Name), I love you. You are my best friend and will be forever.


The Big Surprise
Writing your vows is supposed to be a fun experience. It doesn't need to say everything you've ever wanted to tell your partner, it needs to be a short summary that declares your love and commitment to each other. So here's what I recommend you include:
Talk about what your partner means to you.
What do you love about your partner?
How do you feel about marrying them today?
Make some promises to them.
What are you looking forward to about being married?
If you have a nickname, a cute way you say 'I love you' or something that is personal and meaningful to you both, that's definitely worth including!
Lastly, remember, your vows should be personal and meaningful to you both. There is no one way to write them, and so long as the legal line is included, the rest is up to your own personal style.
Where else have you found inspiration?
Posted: Wednesday 7 December 2016