Fun Wedding Alternatives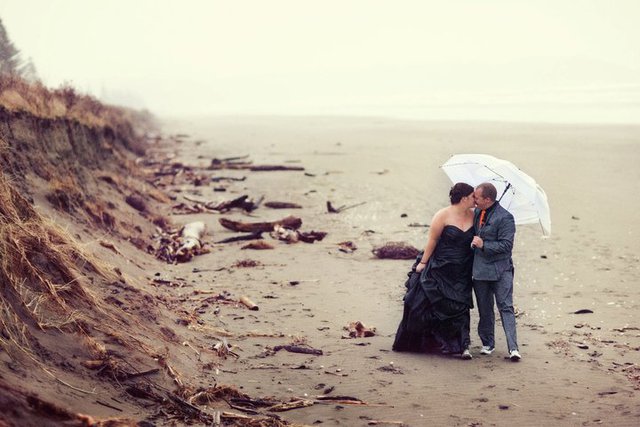 Traditionally, when you think of a wedding, you think of a huge affair, with a big white dress, a big bridal party, on a Saturday in the middle of summer. A formal, sit-down dinner, lots of speeches, open bar and a night of dancing.
When I got married four years ago, my wedding ticked every single one of those boxes, and I loved every second of it! But, there is no 'one size fits all' approach when it comes to a wedding.
Here are some fun alternatives to the traditional wedding.
Winter
How many times have you been to a summer wedding only to sit in the sun for far too long, have a few too many drinks trying to cool down and sweat through your outfit? Winter weddings have a cozy, intimate nature to them. You get first choice at your vendors as they aren't as busy, and can sometimes get off-season discounts. Plus, think of the photos in the rain or snow! Just beautiful.
Overseas
If you're hoping for something a little more intimate, but still full of sunshine, then an overseas wedding could be for you. Locations like Rarotonga and Fiji offer a beautiful venue and are well set up for weddings. Just remember, often the individual items aren't any cheaper (e.g. food, alcohol, hair & makeup, photographers etc) because there are limited options. The savings come from having fewer guests and the potential to combine your honeymoon.
Weekdays
We all know that Saturday is the most popular day to get married, but there can be some definite benefits to choosing any other day of the week. Firstly – you're not likely to clash with other weddings or events. Again there may be discounts available for weddings that aren't held on a Saturday. Your venue is less likely to be booked the day before, which may give you additional time to set up for the wedding. The one big downside? You're effectively asking everyone to take a day (or more if there is travel time) of annual leave from work to attend. You will need to be prepared that some people might not be able to do that.
Colour
Wedding Dresses don't have to be white (or ivory, champagne, diamond of any other version of off-white now available). Inject some colour into your wedding day in the form of your wedding dress!
Food
Gone are the days where a sit-down buffet or plated meal was a requirement at a wedding. Food trucks, roving canapés, or even brunch, are all modern alternatives to the traditional.
What are you planning that's a little alternative?
Happy Planning!
Hannah
xox
Photo courtesy of Perspectives Photo and Cinema
Posted: Wednesday 8 June 2016