The Top 3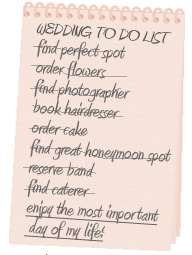 Planning a wedding can be completely overwhelming. With the rise of websites like Pinterest, and Styled Shoots becoming the norm on blogs, it's easy to quickly find you have unrealistic expectations of what your day will look like, when compared to your budget.
This is where my 'Top 3' comes in.
My biggest plan of attack when planning a wedding is to pick the 3 things you really care about and that are desperately important to you, and don't stress about the rest.
The Top 3 will be different for every couple. For some people the photography is the most important, others will want 5-star food, maybe an unlimited bar tab is incredibly important to you, or live music, or the dream dress. Only you and your partner can decide what your Top 3 are, but figuring those out early on is key to making the planning process less stressful.
Why? Because once you have settled on those 3 things, that helps you determine where your budget goes, and where you're going to look to save some cash. The items that don't make your Top 3 are the ones where you're going to look for more budget conscious ways to achieve your ideal look and feel.
So what are your Top 3?
Happy Planning,
Hannah
xox
Image courtesy of Zankyou.com
Posted: Tuesday 22 March 2016