The Honour You Don't Want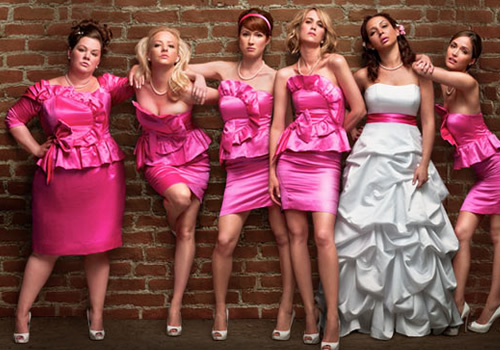 This week we have a guest blog post written by AJ Pipe. A friend. Maid of Honour twice. Bridesmaid twice. Honourary friend once. Married once.
So your beautiful best friend is getting hitched to the companion of her dreams. With delight and glee she asks you the question you've been expecting ever since she met The One…
"Will you be my Maid of Honour?"
With misguided echoed glee you accept the task and truly do feel honoured that you are being asked to be such a massive part of someone's memories for years to come.
Then it starts – wedding planning!
Even with the most chilled awesome understanding bride–to–be, the wedding will flick up blinkers as to how decisions will affect other people .
1) Dates & Location is the first big one . All I can say is start saving now even if your bestie is just in the early throes of love with her One. You will be required to take time off work and rejig your plans to accommodate. Don't forget to factor in cost for travel and accommodation, not only for the wedding but for all the prep stuff in between.
2) With the cost of the average wedding rising and more people funding their own weddings, don't be too surprised if some decisions reduce cost for the happy couple but increase your costs and work load – Blame Pinterest!
3) Dress shopping can be great fun, but don't be fooled by the dress shopping you see on TV.
It isn't standard that they give you Champers when you walk in the door
Some shops require booking a time slot *Top Tip – Call and book a time anyway so you can have someone dedicated to helping your Bride
Wedding dress sizing is the most disheartening sizing ever!!!! Be prepared that your "always been a size 10 " friend won't fit into anything below a 14…. I don't know why, I think there is some deal between the dressmakers and the new gym down the road …GRRRR
Do some scoping (& 99% have it decided) before inviting Mum & Mother-in-Law too. Your Bride will thank you (well she may not, but hey, she is getting married & judgy family is hard). Note: It's your job to run interference with them too!
Your Maid of Honour dress will not be as nice or cost nearly as much as the Brides. You will only wear it once, despite all the "you can alter it and wear it again" talk you'll get from the Bride. Side note: She isn't trying to be a bitch, she honestly thinks what she has picked out for you is lovely, it's just those wedding blinkers!
The Hen's Night/Weekend/Holiday will bankrupt you! It takes a huge amount of planning and can go really well or horribly wrong & you are to blame either way…. Good Luck!
4) Good old changing times may mean you get to brush up on your public speaking. Cue recurring nightmare of doing a reading at Church when you were younger and screwed it up so badly you vowed you'd never talk to more than 20 people at once again.
5) Speaking of Vows, don't be surprised if in the midst of trying to help your Bride write hers, you end up sharing your dream Vows with her.
6) Family traveling in for the wedding need to be taken care of (I don't mean in a 'The Godfather' kind of way, no matter how much the Bride may want it!). So be prepared to step in when Great Aunt Agnes starts voicing opinions on the blooming flowers.
The Big Day Itself
You'll be on high active alert at every moment. Don't expect to enjoy the day. It is your job to make sure the Bride has a great day. Check and double check that the overnight bag is in the right car to get to the wedding night accommodation. This one happened on my first MOH duty – I mistakenly gave one task to the Brides brother. Lesson learnt as it meant a lot of driving around the next day to get the happy couple clothes!
Despite the madness of the day and missing out on yummy food because you're on the photo shoot or prepping the speeches and first dance, your duty is not over on the day.
*Tip - No drinkies for you until after the speeches!
There will be family to get home safe, cheques to be paid to suppliers and rented suits to return. Thank you notes to help write and photos of you in the unflattering dress that need to be displayed whenever your Bride comes over.
Even with all this warning, you'll still say yes when asked and feel honoured because you can always get them back ;)
The very best *Top Tip
Get them to hire a WEDDING PLANNER! It'll save time, money, faff & they will be your best ally in getting your Bride happily married.
Posted: Wednesday 17 August 2016