Wording your Wedding Invitations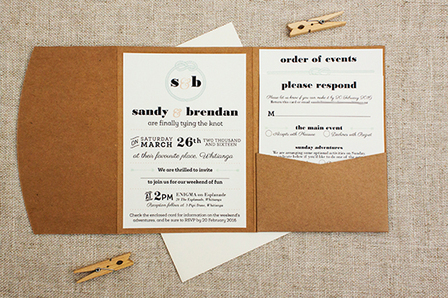 Hi everyone, Amanda here from Be My Guest. Today I'm sharing my advice and tips on how to word your wedding invitations. I'm a wedding invitation designer and I love writing, so wording wedding invitations is my specialty!
Wedding invitations are worded in a very particular structure. This etiquette is great – it makes it easy for you to "fill in the blanks" and write your own verbiage. But don't think you're restricted to sticking to a template. Like many things weddings, take the traditions you agree with and ignore the ideas you don't.
The angle I take with wording wedding invites is pretty practical and common sense. So let's crack into it:
The Introduction Phrase
First bits first: The introduction bit. This is where you mention the host's names. The hosts are the people paying for the wedding, and so this is an opportunity to acknowledge them. Here are four common examples:
Walter and Glenys Smith…

Walter and Glenys Smith, and Ken and Joy Jones…

Together with their parents…

Together with their families…
In the first example, the bride's parents are hosting the wedding. In the second, both sets of parents are jointly hosting the wedding. In the last examples, both sets of parents and the couple getting married are hosting the wedding.
Options 3 and 4 tend to be what most couples use these days – it's more modern, but it still acknowledges the contribution the families are making. Plus families are complicated, and keeping the introduction line generic keeps from ruffling any feathers.
The Request Phrase
The request section is a transitional phrase which explains your guest is invited to your wedding day. This bit is sometimes included before the couple's names, and sometimes after. It depends on who is hosting and how you want to word you invites. It's not important where it appears on your wedding invitation – just as long as it makes good grammatical sense! Here are some examples:
...invite David and Sue to celebrate their wedding day

…invite David and Sue to join in the celebration of their marriage

…to share in a celebration of love

…joyfully invite you to celebrate their marriage
The first two examples are the sort of wording you'd use if you wanted to personalise your wedding invitations with your guest names.
The Couple's Name
The next section of the wedding invitation is the couple's names. Traditionally, the bride's name goes first, followed by the groom. I'd say 90% of my couples run with this format, but as I said earlier, it's up to you. The reason for this particular order is because the bride's parents were hosting, and "giving" (ugh) the bride to the groom.
The Wedding Day Details
The all-important wedding day details are next. The typical order you write these in is
Date

Time

Location(s)
But if it doesn't suit the design you're going for, then you can be a bit cheeky and mix it up. Just remember you need all three! If you forget any of these things, you're going to cause a lot of confusion.
If your wedding ceremony is in one place, and your reception is in another – you'll probably need to mention both locations.
RSVP Information
The final, essential bit of your wedding invitations is the RSVP. It's really important that you explain to your guests how they can respond to your invitation. It's also vital that you give them a date to reply by. I did some research a couple of years ago which found the weddings with the most no-shows were the ones with no RSVP dates. Not surprising really, but good to know.
Wedding Invitation Wording Examples
Here's a couple of different examples, with all the different sections put together: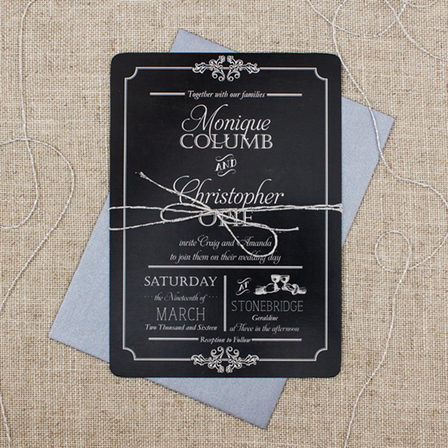 Traditional/Formal Wedding:
Walter and Glenys Smith
And
Ken and Joy Jones
request the honour of your presence at the union of
Amanda Smith
and
Craig Jones
On Saturday 29 September 2017
three in the afternoon
at Grandview Gardens, Currie Road, Outram
Kindly reply by 1 September 2017 using the enclosed response card.
More relaxed/casual wedding wording:
Together with their families
Amanda and Craig
invite you to celebrate their wedding
Saturday 29 September 2017
3.00 pm
Grandview Gardens, Currie Road, Outram
RSVP to amanda@bemyguest.co.nz by 1 September 2017
If worst comes to worst and you're stuck for wording ideas, don't be afraid to look for inspiration! Check out a couple of different wedding invitations below, or have a look at examples on different New Zealand wedding invitation designer websites for how you can word your own invites.
Don't get too caught up in looking through Pinterest as I've found a large proportion of the wedding invitation wording is specific to particular religious ceremonies (especially those religions which are not as prevalent in New Zealand). There's nothing wrong with that of course, but if you're having a casual civil ceremony in NZ it can be very confusing! If you're having a traditional Jewish, LDS or Catholic ceremony, then you will need to look up wording for your particular religious practices, or consult with your officiant – even simple things whether to use "to" or "and" between the bride and groom's names are dictated in some religions.
If you are stuck and have any questions, feel free to comment below and I'll do my best to help - or visit me at Be My Guest.
Good luck!
Posted: Wednesday 28 September 2016