6 Qualities in Great Marriage Celebrants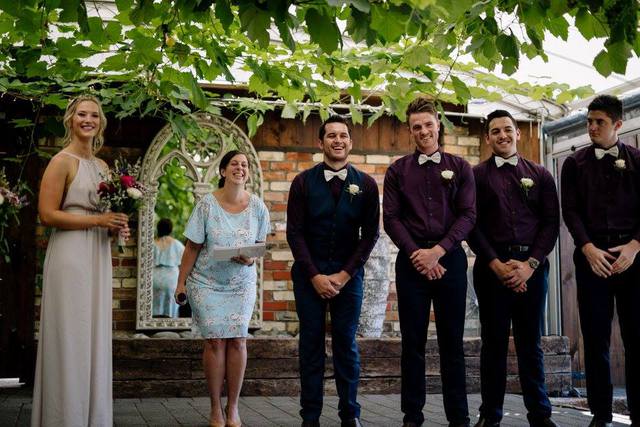 I know I'm biased … I'm a celebrant and therefore what I think makes a great celebrant might be a little different to you. In saying that, as part of the Glitter Squad and in networking with other celebrants, I've come to realise that there are a few qualities that make my fave celebrants all a bit similar.
They give a shit
This is the most important thing. I'll tell you something, celebrants aren't in this for the money (it's not exactly a huge income earner!) … great celebrants are in this job because we love it. We love weddings and we love love. We want to tell your story, and we want to write a ceremony that reflects you two. You know what great celebrants don't give a shit about? Your sexuality. Gay, straight, somewhere in between. Love is love. When you find the person you want to spend the rest of your life with, a great celebrant will celebrate that and be excited for you and care about making your wedding day perfect for you.
They are flexible
No, I don't mean they aced gymnastics at high school! Things will always pop up at the last minute and great celebrants will just roll with it. You might have a last minute change to your vows, or need to move location due to the weather. Whatever the situation, it's your wedding day and the best marriage celebrants will be flexible enough to make things work.
They calm you down, not stress you out
When your bride is 15 minutes late and you're stressing out she might not come … it's your celebrant who will be standing next to you reminding you not to be an idiot and that she loves you and she's on her way. The role of a celebrant is kind of important … they legally marry you. But they will also be the person who relaxes you and reminds you that today is all about you two getting married, not anyone else watching.
They make you feel comfortable
The best ceremonies are ones that reflect the couple. So find a celebrant you feel comfortable with. Share your stories and have them laugh with them, because on the day, they will retell your stories to your family and friends in a way that is perfect for you. And when they are just as passionate about your love story as you are, it shows.
They get you
One of the cool things about getting married in New Zealand is that there are very few legal requirements. What that means is that your ceremony can truly be customised to suit you as a couple. So long as you cover those legal bits and pieces, it's up to you how things flow and what is included (or left out) of your ceremony. All of my fave celebrants get this. They actually care about your wedding day and want to make it perfect for you and your partner.
They're knowledgeable
As I mentioned above, there's not a lot legally that needs to happen in a wedding ceremony, but it is important that your celebrant gets it right. You want someone who can fill you in on how to apply for your marriage licence, what happens with the paperwork and what you need to say during the ceremony. But on top of that, a great celebrant will have resources for you on how to write your vows, will have knowledge on readings and other things you can include in your ceremony, and will have great contacts within the industry if you're looking for other suppliers. Celebrants can be wedding gold when it comes to finding out who is the best of the best to work with.
And one last thing … the person who marries you must be a registered marriage celebrant in New Zealand. They can be independent or organisational but they must be registered. You can check online to find out if they are.
Happy Planning
Hannah
xox
Have you downloaded my FREE Checklist?
Don't Forget the Details! - Your Wedding Planning To-Do List. Grab your copy now!
Photo courtesy of The Official Photographers
Posted: Wednesday 24 May 2017